5 Must-See Left Field Lighting Design Projects
By stephen
September 24, 2020
1
POSCA CHANDELIER
To create the Posca Chandelier, we re-used forty different markers in five vibrant colours. It was designed with the lamps sitting inside the marker to make them fully illuminate the Posca's original colour through the lid. A pretty cool example of how you can re-purpose other products to create something incredible.
2
TESLA ELECTRIC PORTRAIT
This award-winning lighting installation was created as homage to electrical pioneer Nikola Tesla. Built using 759 energy-efficient LED globes mounted to a grid with various masked diameters, allowing exact light levels to escape at different sizes.
3
ROLL HAND-PAINTED TRACKLIGHT SERIES
We collaborated with a selection of artist friends who were tasked to use a standard light fixture as a blank canvas. The artists include legendary street artist Puzle, Indigenous Australian artist Steve Parker and Illustrator Andy Murphy. The executions are all crafted by hand and cover everything from popular (and unpopular) culture, to traditional art, humour and fashion, exploring colour and texture.
4
MAPSTONE SKATEBOARD LIGHT
After a few prior years of playing around with making lights from a skateboard, we finally made a skateboard light for our friend and Melbourne skate icon Anthony Mapstone – both celebrating his model on Blind Skateboards and the new Fast Times store at Chadstone.
5
HUXTABURGER SKATEBOWL
With a few old skaters on the team at ambience, the new Huxtaburger Footscray concept from Studio Y Interior Design & Architecture was a really awesome project than usual to collaborate on. The lighting design featured customised illuminated hand rails and ceiling skate ramp with illuminated coping.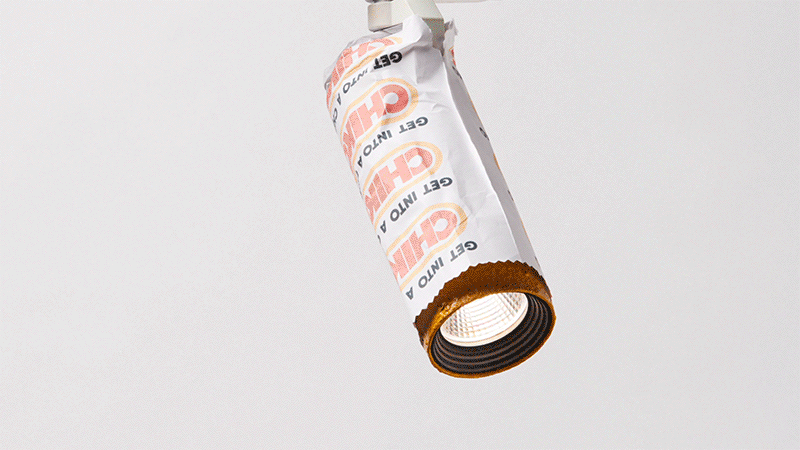 6
CHIc-O ROLL TRACKLIGHT
We (sort of) launched the Chic-o tracklight, the world's most enchanting example of what happens when sleek architectural innovation meets vegetable oil. Fawned over by the world's most celebrated interiors media, you really need to see some more of this.
Read More
If you have any exciting left field lighting itches to scratch, hit up the team!
CONTACT US
(03) 9403 6400