Da-Da-Da-DAAAAAAAAAAAAA!! Introducing Our Latest Bendable LED 'Neon'!
By stephen
April 20, 2021
Welcome to the stage our latest in our bendable LED 'neon' repertoire
First 'Virtuoso' (pictured) shapeable neon flex from our Symphony range. With 360˚ illumination it's created with the art of creating in mind. Whatever your application you're guaranteed an encore performance – mirrors, bars, feature lights, custom projects, signage, hard-to-reach spots, pendants, bulkheads and if you're trying to get that a neon look without having to use neon. Did we also mention that it's waterproof and can be used outdoors? Virtuoso is truly for one excels in the technique of an art especially if that technique is bending it, moving it, making it and creating it – rock on!
There is shapeable, moveable, twistable and flexible linear and then there is the very flexibly twistable Bendable Medley. With side to side or up and down bendability (is that a word?), you can cut it at any point, you don't have those damn awful LED dots, there's a wide range of accessories: aluminium profiles & bendable channels.
The patented optical and structural design also has  consistent CCT range and colour uniformity. Oh and it's strong impact and weather resistant. There's a lot to shout – and twist about.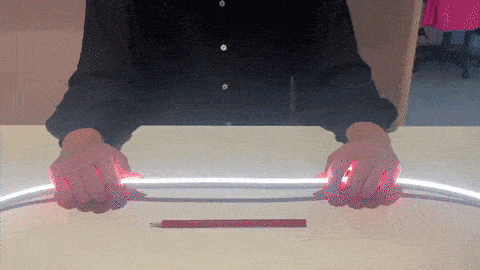 Here's something to sing about, the petite Bendable Piccolo LED profile. The advanced co-extrusion technology of the Bendable Piccolo provides a dot-free LED. Its super small size makes it extremely versatile with its ability to discreetly enhance and fine tune your space with perfectly even diffused light – yes that does sounds special.
Suitable for both indoor & outdoor applications, we would be here all day – for joinery, bars, product display, custom luminaires, yoga studios, detail/niche illumination, cabinets, joineries, advertising, signage ok I am still going, hotels, gardens, bridges corridor, ceiling, staircases, pathways let's just say it's the perfect piece for your composition.
For any more product info, Get in touch
(03) 9403 6400